The friendship between Patty and her little forest friend began when she noticed the animal in her garden, looking out of the kitchen window. Out of curiosity, the woman went outside to sort it out, and realized that in front of her was still quite a baby squirrel — the squirrel had not even opened his eyes yet.
Patty walked around the house for about 45 minutes looking for the squirrel's mom or his siblings, but she never found anyone. Then she realized that she was obliged to help the charming animal, raise it and eventually release it into the wild. However, now the Bunk does not want to leave and enjoys the company of its savior.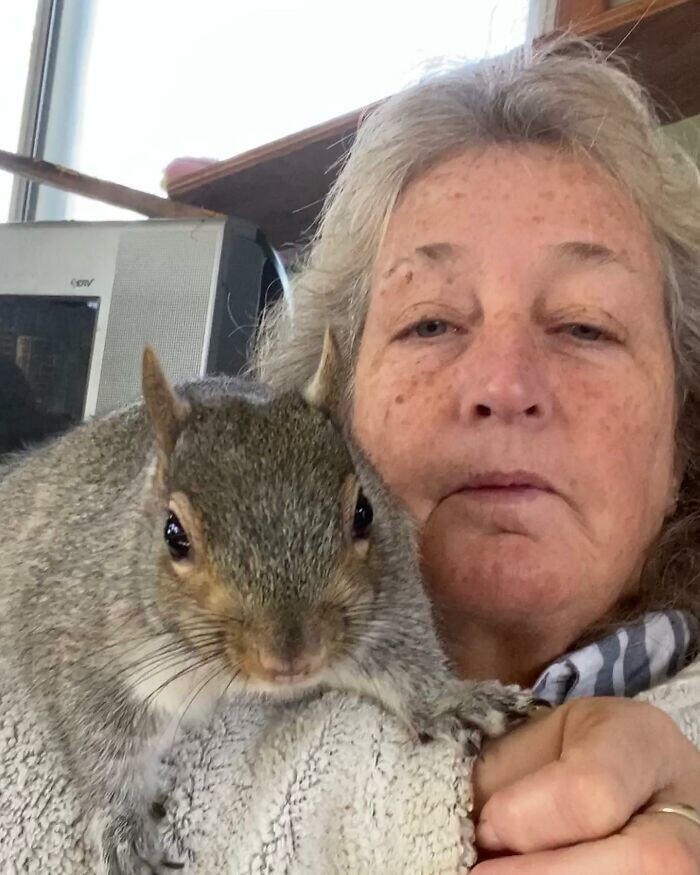 «When I first picked it up, it just melted into them. I put it in my pocket and said: «Here you are in bed.» That 's how I came up with the name » Bunk » for him .
I thought: well, how difficult can it be to raise a squirrel at home? Of course, I searched for information on the Internet; some were true, some were not.»
Patty said that she basically always helped people. «My job was to help people, and I'm a foster parent. I raised a blackbird and set it free.»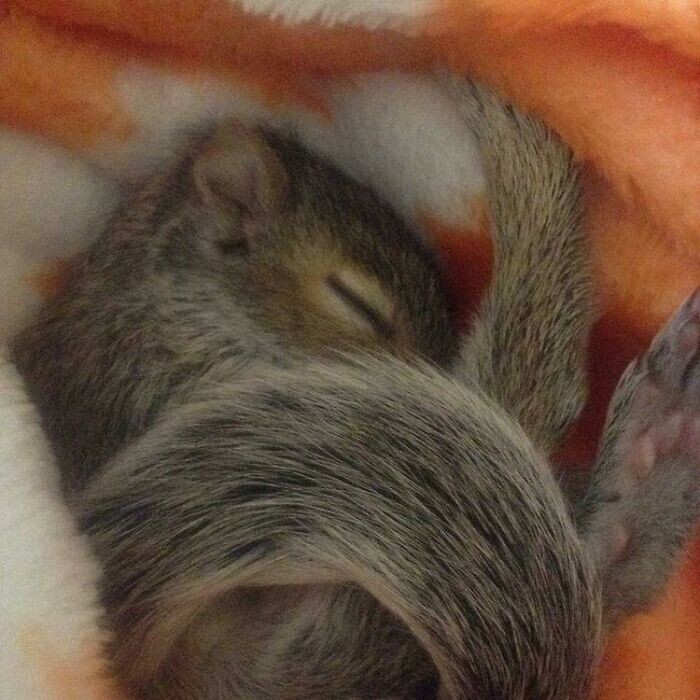 «In fact, I was letting Bunk go free. He was gone for five days. He came back scared, growling. I tried three more times and he just refused to leave. Squirrels don't make good pets. They're a mess. It takes a lot of money to maintain them. They can bite, they need a separate room, etc. But he didn't leave, and I wasn't going to give him up!».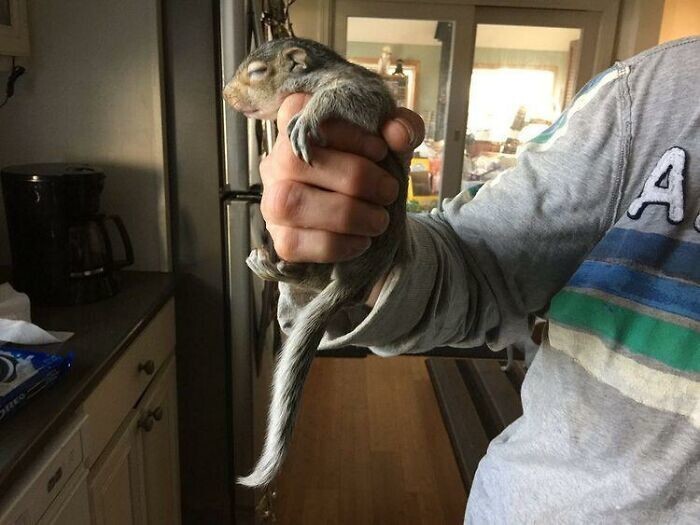 To make the life of Bunk in captivity as fun and comfortable as possible, Patty decided to turn her house into a «squirrel playground». She built several ramps, a tree house, a sculpture made of wood and birdhouses so that Bunk could run safely without injuring itself.
«Since Bunk injured his paw, I built ramps for him and installed pipes so that he could run around the room safely. I am an artist, so it was a real pleasure for me to build a tree house and a sculpture from his favorite wood species for him.»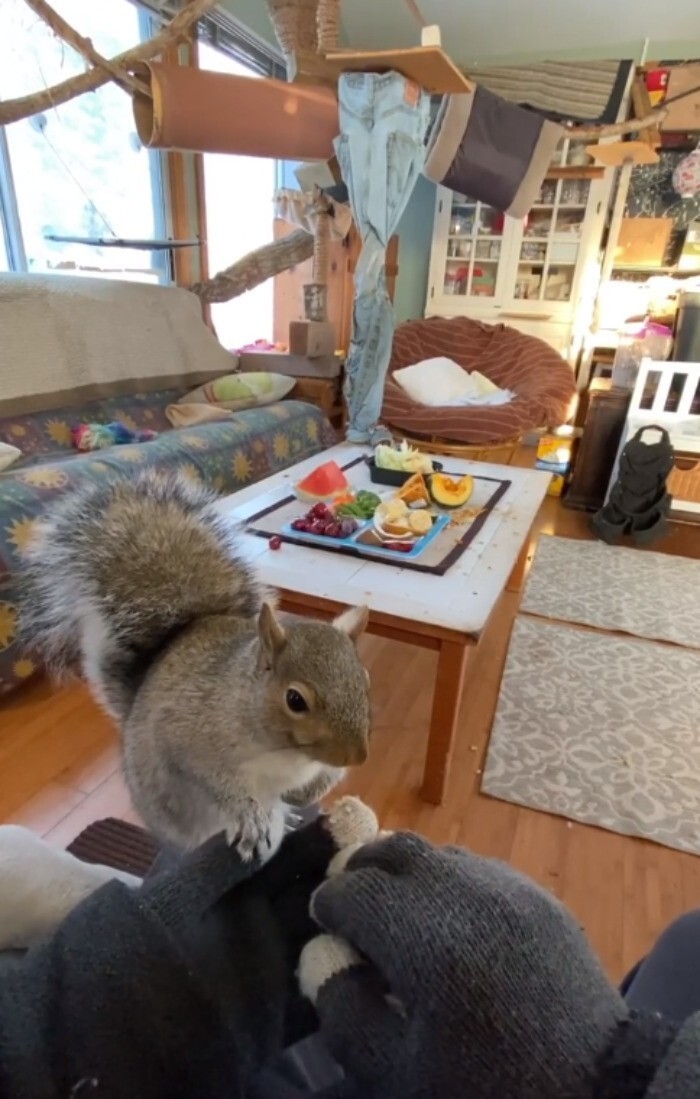 «I built him birdhouses, built him a nest. He uses some of these, and refuses some of them. The Bank room belongs to him. It's not mine, it's his room. I can't change anything in it. If I walk around his room, he follows me and makes sure I don't change anything. I can add something small to his room without his knowledge, and he will notice it quickly. I built him a cage, too. The door in this cage never closes. A squirrel shouldn't live in a cage.»
«Bunk is affectionate, loves to cuddle, and we are very, very close,» says Patty.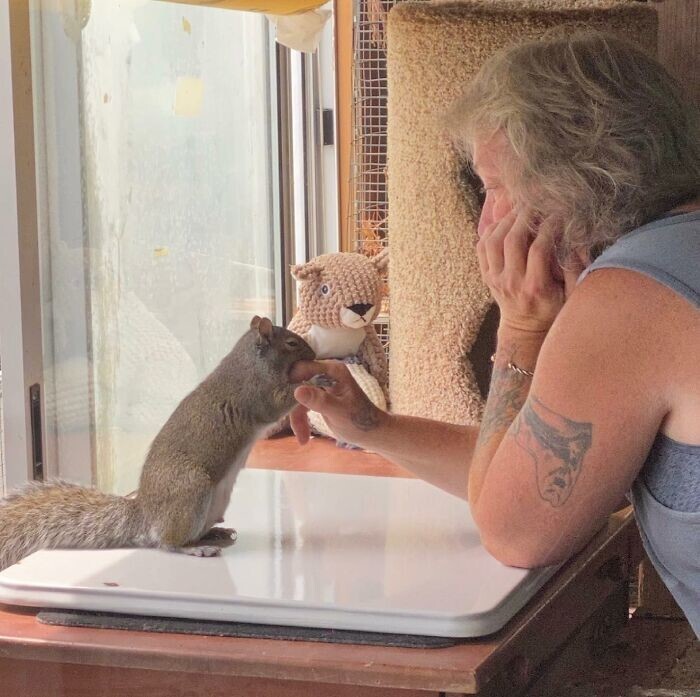 Although Bunk may leave at any second, he prefers to live with Patty in her jungle-like house.
«Loving a squirrel is wonderful. Being beloved by a squirrel is a blessing! I do not know who helps each other more every day — him, me or both of us. He makes me better. He taught me to be closer to nature. We don't exchange words, but we understand each other. Humans and squirrels are much more connected than people think.»