This story happened in Idaho, at the Idaho Falls Zoo. In March, a single lion cub was born in the zoo, who was born very thin and weak. Therefore, he had to be taken away from the lioness and moved to a separate area.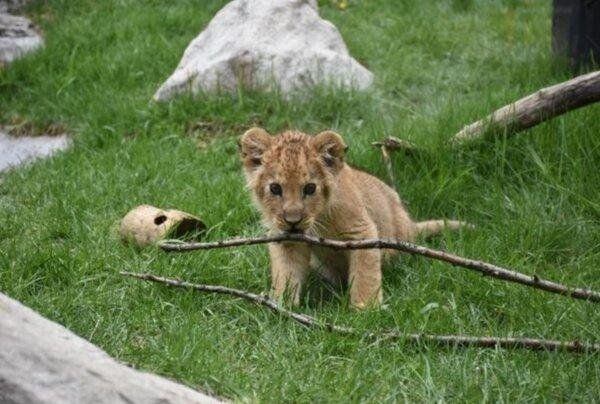 The lion cub underwent the necessary treatment for some time and lived in a separate territory, under the supervision of zoo veterinarians. Fortunately, the baby's health was preserved and soon he recovered and was ready to go to his mother. But first he had to go through some procedures and learn to stand firmly on his paws.
The lion cub lived in a separate territory and was all alone. He was bored. Then the zoo staff decided to settle the lion cub to a dog named Justin, who at that time was two years old. The first meeting took place under the supervision of specialist Darrell Marcum. The whole process was closely monitored.
"The friendship of a lion cub with a dog will benefit him. This way he can recover faster and learn some things from Justin. Let's see what happens."Darrell Marcus said.
When the lion cub and the dog met for the first time, they both froze and stared intently into each other's eyes. And then the lion cub slowly moved towards the dog and they touched their noses and began to sniff.
From that moment on, the lion cub was constantly with this dog. They became real friends. They were constantly running and playing catch-up and just relaxing next to each other. Justin was very responsible and patient towards the lion cub, who all this time did not give rest and demanded to play with him.
This friendship really helped the lion cub to recover. And after a couple of days he became a very active and cheerful lion cub. Now he was ready to return back to his birth parents, the lions (Kimani and Dahoma).
This is how zoo staff managed to temporarily befriend a dog with a small lion cub. The dog became a regular guest of the shelter. And he is always welcome. And the lion cub went back to his parents and is now completely healthy and happy