An Indiana police department has come up with a brilliant way to use their community services as a way to benefit their local animal shelter.
Earlier this month, the Muncie Police Department made several social media posts announcing that people with unpaid parking tickets could pay off their fines by donating pet supplies to Muncie Animal Care and Facilities.
"Until Friday at 4 PM, we are allowing folks to pay their parking tickets in cat food, kitten food, or kitty litter! Bring a donation in the amount of your ticket," wrote the police department.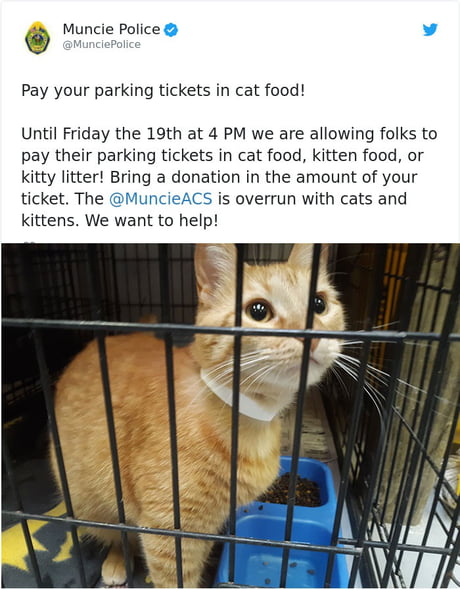 This is not the first time that police departments have used unpaid tickets to benefit an organization in need. The city of Las Vegas only recently launched a program that allows people to pay off their speeding tickets with school supplies.
Around Christmastime, Vancouver and this other little Canadian city ask their residents to pay off their parking tickets in toy donations. The city of Lexington, Kentucky also takes advantage of the holidays by asking people to donate canned food during Thanksgiving.
The Muncie police officers now hope that their donation drive will inspire other law enforcement teams to launch similar initiatives in their own cities.